All About Sam Gayton
Sam is a young author and playwright whose books are aimed at 7-11 year old boys and girls. He has lived in lots of towns and places. Above a joke shop, in a basement with big and hungry spiders, in a house with a ghost (he called him Kevin). Right now, he lives by the sea in the town of Margate. He really likes reading books about tiny people. He likes tiny people so much that he has written a book about one.

Sam's School Visits
Hundreds of years ago, being an author meant you sat in a stuffy little room called a garret with an ink pot, paper and a mug of ale or something, and you wrote. You wrote your books and then after a few years you died of smallpox or something and you didn't get famous and read by millions of people until hundreds of years afterwards.
Nowadays, being an author means that every once in a while you leave your stuffy little writing room – with its laptop and comfy chair and wireless internet – and you venture out to strange places you've never been to before, like Staffordshire and Essex and Leamington Spa.
And then, you visit the schools there and you get to talk to children.
Getting to talk to children is one of the best things about being an author. Sometimes I wish I talked for children instead of writing for them. But then I'd have to be a teacher I suppose and then I'd have to talk to them about boring things like Catherine of Aragon (surely the most boring of all Henry VIII's wives) and the square root of the hypotenuse (and that's only boring to me because I have no idea what it is).
Sam
 normally offers a large assembly style fun based presentation lasting about 1 hour and then 3 further workshops of 45 minutes to 1 hour each to smaller class size groups – the writing workshops typically include story start ups, how to introduce a mystery character and creating a magical potion. 
Sam
 is also happy to attend library groups and undertake book signings and also offers shorter sessions to the younger children too – so will work with 5-12 year olds.
Sam's Books
Hercufleas
Greta is a girl on a mission: to venture to Avalon and bring back a hero who can save her home from destruction by the monstrous giant Yuk. Many heroes have tried before now. Many have failed. What Greta needs is a hero whose courage and self-belief are greater than himself. She needs Hercufleas. The only problem: he is a flea, no bigger than a raisin. But the smallest person might just have the biggest effect…
The Snow Merchant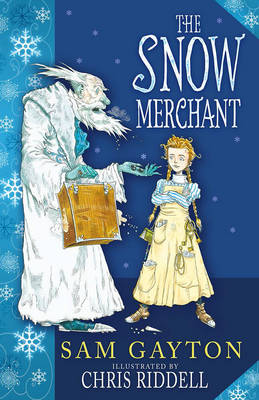 Lettie Peppercorn lives in a house on stilts near the wind-swept coast of Albion. Nothing incredible has ever happened to her, until one winter's night, when the night the Snow Merchant comes. He claims to be an alchemist – the greatest that ever lived – and in his suitcase, he carries his newest invention: snow.
To buy Sam's books, click here.
To Make a Booking
To make an enquiry about Sam, or any of the other authors, poets & illustrators listed on this website, please phone Trevor Wilson on +44 (0) 1535 656015, or email him at trevor@caboodlebooks.co.uk
Further information on Sam is available on his website: http://www.samgayton.com/